A Modern GIS Platform for Utilities Asset Management
Digital Transformation For Asset Management
Energy providers are going through a digital transformation of how they manage & operate their utility networks and infrastructure. GISonLine understands that barriers like costs, infrastructure, and knowledge of GIS systems can pose as challenges to organizations wishing to implement a modern GIS asset management system.
Improve Productivity & Decrease Operating Costs
To address these challenges, GISonLine created GRIDonLine and specifically designed the GRIDonLine application to support enterprise wide modeling, data management and visualization of utility assets.
 Integrate with Your Existing Business Systems
As a modern GIS platform for utilities asset management, GRIDonLine can be integrated with other business & financial systems that exist within your organization to form a comprehensive and complete view for the end-to-end management and decision support of today's utility grid networks.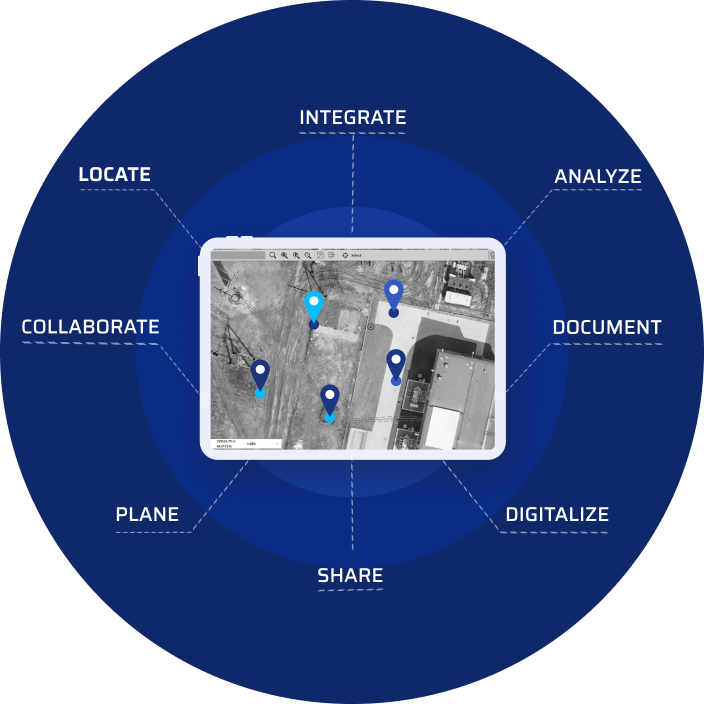 All The Benefits of Enterprise Utility Asset Management
Visualize Your Utility Network
Model and visualize your enterprise utility network to include each asset, device, and equipment along with detailed information about its: location, topology, and all feature attributes describing technical specification and condition.
Learn more about visualizing Underground Utilities with the ARonLine Augmented Reality mobile application.
Perform Advanced Connectivity, Topology and Tracing Analytics
Use GRIDonLine to visualize the pathways and connections that resources such as water and electricity flow through within the network.
Analyze how the network and its devices are impacted by events such as breakages, outages and equipment failures.
Perform advanced network & spatial analysis to visualize the complex relationships that exist between assets, and support common operations such as inspection planning, address location, marketing, and environmental impact analysis.
Centralize Your Utility Asset Data
GRIDonLine connects to a centralized data repository to store and manage your utility assets and allows you to visualize, analyze, and present a comprehensive and view of your network.
GRIDonLine was designed to be scalable to support small to large complex networks.
Enterprise Access and Availability
Provide your organization with enterprise access to GRIDonLine as a cloud-based or On-Premise asset management resource.
GRIDonLine is entirely web-based and allows enterprise users to create, edit and view utility data via common web browsers and mobile devices and works in multi-user or single-user modes.
Connect to Imagery from Satellites or Drones
Take advantage of high resolutions imagery available from aerial, satellites or drones that can form the base maps for viewing your utility assets.
Integrate With Other Systems
GRIDonLine can deliver real value when integrated with other systems and services to form an integrated operating environment.
Integrate GRIDonLine with your financial management or asset management systems such as SAP or IBM Maximo.  Learn more about GISonLine System Integration services
Support Mobile Field Data Collections
GRIDonLine allows users to work in online and offline modes.
In offline mode users do not require network access and can work with their mobile devices while in the field to edit feature attributes, insert objects using GPS positions, add photos and attach documents to network objects..
Integrate with Business Intelligence
Get critical business insights and decision support by connecting GRIDonLine to business intelligence dashboard reporting and analysis tools.
Overcome Core
Asset Management Challenges
Integrate GRIDonLine with other systems
GIS platforms and applications can deliver real value when integrated with other business domain systems to form an integrated and coherent operating environment.
Maximize the value of GRIDonLine by integrating it with other existing systems such as SAP, IBM Maximo, Filenet and other asset management platforms.
Learn more about System Integration
Migrate from Legacy Systems
Legacy GIS systems that are outdated but still in use pose as challenges to agile and growing enterprises.  While these legacy systems may still meet the original requirements, they are typically incompatible with newer technologies and limit interoperability and integration with modern services and cloud-based architectures.
GISonLine provides the experience and expertise to plan for successful data migrations and has established a formalized data migration methodology.
Learn more about Data Migration
Conform to Industry Data Models
Industry data models help simplify the process of implementing projects and support the exchange of data between systems through adhering to adopted standards and formalized naming conventions.
GISonLine has the experience to convert or migrate your organization's data into formalized industry standards that help support interoperability and exchange of information between systems.
Learn more about Data Modeling
Deploy On-Premise or in the Cloud
Take advantage of GRIDonLine as a cloud-based resource that is managed & maintained as part of a Cloud-Services offering. In keeping with traditional deployments, GRIDonLine can also be installed on-premise and contains all of the features and functionality of the cloud-based product.
Automate Data Migrations
Organizations often lack the software tools and automated processes to migrate data from multiple sources. With a vast amount of disparate data existing in siloed systems and in various formats, GISonLine provides the experience and expertise to plan for successful data migrations.
Using the latest software tools and programs, GISonLine can help automate the process of moving data from source systems to target systems or from source formats to a target formats.
Perform Disconnected Field Data Collections
The ability to collect real-time data from the field via mobile devices to update the location and condition of assets is critical to maintaining and managing utility infrastructure.
GRIDonLine Mobile solutions enable users to measure position, fill key attributes, collect asset photos, and attach additional documentation. All information gets synchronized into a central database for enterprise collaboration and communication.
A Modular Approach
To Fit Stakeholder Needs
GRIDonLine is comprised of a set of core modules designed to support and meet the needs of enterprise asset management and the stakeholders involved in managing and maintaining utility networks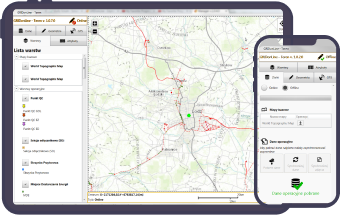 Terrain
See more
Terrain
An offline mode to work without network access
Inserting an object in the current GPS position
Adding photos of assets
GPS accuracy reporting
Editing attributes and geometries
Adding file attachments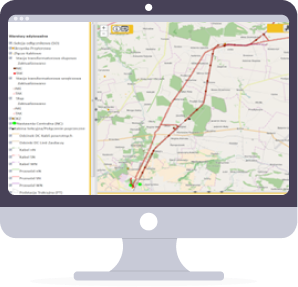 Mapper
See more
Mapper
Adding objects
Editing attributes and geometry
Search
Identification
Photographic documentation management
Validating the completeness of attributes
Measurements
Admin
See more
Admin
System health monitoring
Detailed user activity & activity registry
Licenses & access management
ETL operations console
System integration monitoring tool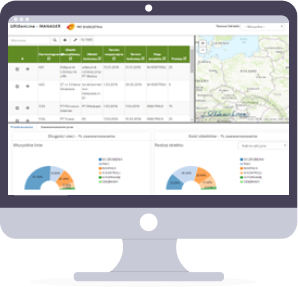 Manager
See more
Manager
Alerts, reports, KPI's
Monitor work progress
Location of the project stages on the map
Creating charts
Information on threats and delays
Contact us
Looking for Location Intelligence?